Book Review - Free of Me
,
As a work of practical theology, Sharon Hodde Miller's Free of Me explores the bondage of a self-focus and the liberation of a God-focus. I think you should read it—because you'll find it painful in the best possible way.
Maybe I just want someone to commiserate. Several passages felt like gut-punches. Miller gives us a frank tour of relationships and ministry built on self—where busy-ness and attention-seeking have crumbled into piles of stress and shame.
You'll find practical advice here, but again, it's practical theology. Miller points us to a God who can take responsibility for a world outside of our control. His majesty humbles us, and in that humility we can discover the roots of true praise, purpose, and passion.
To be clear, Miller doesn't argue for self-neglect, but against self-obsession. In the hardest of times, people like Moses, David, and Mary found comfort by meditating on their God.
Few authors manage to challenge and encourage you at the same time, but Miller does so with apparent ease. She writes without pretention or excess, choosing her points carefully. I admire the clarity of each appeal, and I'm grateful for the warm, inviting tone she maintains. Her sensitivities—to shame, loneliness, despair—mirror what we tried to include in our own recent theology on relationships.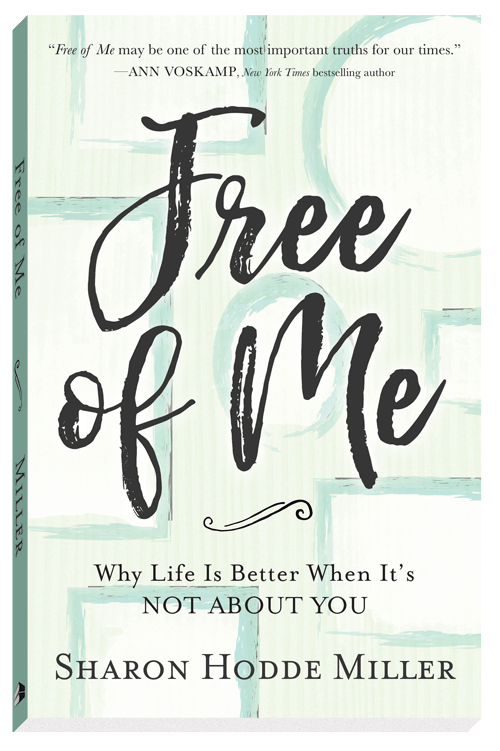 I wouldn't hesitate to recommend this book to a mature believer—or to a new believer struggling with memories of neglect and abuse. Given the format of the book and the discussion questions included with each chapter, I can see it being a fantastic centerpiece for small study groups.
Please consider picking up a copy and sharing its message with others. Our churches need more resources like this.
---
About the Book's Author
Sharon Hodde Miller is a writer and speaker who serves in the Raleigh, NC area with her husband, a pastor. She holds a PhD from Trinity Evangelical Divinity School, and she's the mom of two (soon to be three) children. You can discover more of her work through her website, sheworships.com.
---
A Few of My Highlighted Quotes
"And how did God respond to Moses's doubt? Not with a self-help pep talk . . . Instead he changed the subject. God affirmed his own strength, his own leadership, his own self, because the outcome never hinged upon Moses."
"She used a term I had never heard—and one I will never forget . . . She called it image management, and it's exactly how it sounds: when you 'manage' how people see you. It takes an endless number of forms, like the need to appear attractive, happy, successful, organized, or smart . . . it treats everything in your life as a reflection on you."
"Paul was content in all things because his calling was not about him. His job was not about him, and his life was not about him. It was all about Jesus. Paul was a living, breathing example of Jesus's words that his 'burden is light' (Matt. 11:30). When your self-worth is no longer on the line, the weight is infinitely less."
"If wholesome and safe is our compass, then we will always choose convenience over obedience."
"Praise in the midst of pain is not solely about self-talking the gospel. Instead, worship belongs in the context of community, because the truth is, some days we can't bring ourselves to do it. It's too hard. The darkness is too heavy and the grief too close. In those moments, when we can't turn our thoughts to anything besides grief and our voice is too hoarse from wailing, we need brothers and sisters to worship on our behalf."
"Your purpose is the place where loving God and loving others meets your particularity. It also goes by the name of 'calling,' and it's one of the most delightful ways God draws us out of ourselves and into him."
---
Quick Facts
Title – Free of Me: Why Life Is Better When It's Not About You
Author – Sharon Hodde Miller
Publisher – Baker Books, © 2017
ISBN – 978-0801075230
Available in paperback, ebook, and Audio CD formats, wherever books are sold. As of this writing, books are in stock at both Amazon and CBD.
---
About this Review
Neither the author or publisher of this book requested a review, nor did they provide us a review copy or any form of compensation. We have no affiliation or revenue sharing with any retailers mentioned. Reviews reflect the opinions of the reviewer and do not constitute an endorsement from Positive Action.