The revised and updated fourth edition of Dynamic Christian Living is now available!
This academic Bible curriculum introduces essential Christian doctrines to middle schoolers, challenging them to study God's character and respond to His Word. At this age, your students face growing personal responsibilities and increasingly complex questions about their beliefs. This study can help your students appreciate the structure of the Christian faith—its simple truths, the vast wisdom underneath, and the knowable yet incomprehensible Person holding it all together.
Lessons fall under five main units:
Unit 1: Birth - Salvation
Unit 2: Growth - Scripture
Unit 3: Breath - Prayer
Unit 4: Communication - Witnessing and Discipleship
Unit 5: Behavior - Daily Living
The fourth edition includes unit tests, a heavily revised final unit (Lessons 28–35), and a host of improvements based on teacher feedback. See below for an overview of the new lessons, or download a scope and sequence on the product page.
Features
Teacher's Manual
Available in Print or in PDF

35 Lessons

—one for each week in an average school year

Weekly Schedule

—outlines for three-, four-, and five-day-a-week Bible classes

Target Truths

—core learning objectives for each lesson

Teaching Strategies

—notes on presenting a lesson's material effectively

Scripture Memory

—optional plan for verse memorization

Testing and Evaluation

—weekly quizzes; unit tests; answer keys included

Student Manual Pages

—facsimiles of the Student Manual pages with answers filled in
Student Manual
Available in Print or Interactive PDF

Student Work

—thought-provoking inductive Bible study that challenges students to grow closer to God through His Word

Engaging Design

—printed softbound, reference-style workbook includes original artwork and study activities on 7x9" pencil-friendly pages

Notes from the Teacher's Lesson

—fill-in-the-blank outlines and graphics that correspond to the Teacher's Manual
Extra Resources
Available as a Downloadable ZIP

Editable Lecture Presentations—PowerPoint, Keynote, PDF.

Easily present lecture content from the Teacher Manual while helping students fill in the outlines in their Student Manual. Using the pre-formatted slide layouts and text, adapt the presentations with your own pictures and lesson content. Recommended fonts included.

Editable Quizzes—Word, PDF.

Copy, edit, backup, and print these newly formatted testing materials from the Teacher's Manual. Answer keys included.

Editable Quiz Slides—PowerPoint, Keynote, PDF.

Save time and paper by administering weekly quizzes in presentation form. Recommended fonts included.

Student Manual Facsimiles—PDF.

Quickly review student exercises by presenting workbook pages with the answers filled in.
New Lesson Overview
Lesson 28—The Gospel and Grace
Just as God saves us by His grace, He sanctifies us through grace as we obey Him. This process of sanctification begins at salvation, continues through the present, and will be completed in the future.
Lesson 29—Rules and Principles
A rule is a law that may or may not be rooted in a moral principle, and a biblical principle is a fundamental truth based on God's character. Our behavior reflects what we choose to believe about God's principles.
Lesson 30—The First Claim Principle
By the authority of who He is and what He has done, Jesus Christ has first claim on the life of every saved person. Christ's priorities should be our priorities.
Lesson 31—Living by Biblical Principles
Specific biblical principles guide our holy living. When we apply these timeless, universal principles, we will reflect Christ to the world and to fellow believers.
Lesson 32—Finding God's Will
God's will includes His sovereign will, His moral will, and His individual will. We can make wise decisions only if we are already following God's revealed will.
Lesson 33—Friendship
Our friendships should reflect the way God relates to us. We must choose friends wisely and put effort into maintaining our friendships.
Lesson 34—The Church
The purpose of the church—both universal and local—is to grow to be like Christ, thereby glorifying Him.
Lesson 35—Spiritual Disciplines
Spiritual disciplines are tools that God uses to grow us spiritually. God, not our behavior, changes our heart.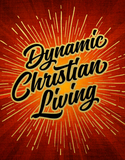 Dynamic Christian Living
Copyright Information
Dynamic Christian Living: Essentials for Believers; 4th Edition
Written by Frank Hamrick
Edited by C. J. Harris, Kristi Houser, Champ Thornton, and Christa Lord
Design by Shannon Brown
Chapter Artwork by Del Thompson
Previous Edition (while supplies last)
Schools who choose to continue using the previous edition can still purchase materials here. Books will remain available while supplies last. Please contact us if you have any questions or special requests.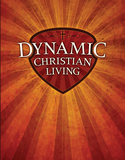 Dynamic Christian Living - Previous Edition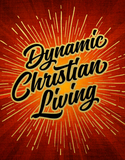 Dynamic Christian Living