I'm happy to announce the release of Songs for Your Path, a 180-day devotional that explores the joy, wisdom, and hope of the Psalms. I trust you'll find it a friendly guide for the path that God has set for His children.
The book grew from my personal journey through the Book of Psalms. In these pages I've recorded my glimpses of God's glory, the wisdom of His righteousness, and the joy of His presence.
Traditionally, Jews have placed the Psalms in the same category as Proverbs, Job, and Ecclesiastes—because above all, the Psalms teach their readers wisdom. They show us how to reflect God's character, how to live within the order of His creation.
We can think of the Psalms as a map to blessing, both now and for eternity. Each song and poem is a signpost pointing upward to God and onward to the path He laid for us.
I pray that your walk with these Scriptures is as encouraging as mine has been, and I trust that you will finish with a song a praise on your lips.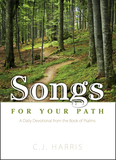 Songs for Your Path