It's a pleasure to announce the launch of Restoring Devotion: Wisdom from the Book of James. We've long wanted to produce an introduction to the epistle, and our own Jason Ehmann has written one that youth leaders can teach over a single quarter. This 13-lesson church curriculum can encourage your students to explore the riches of practical theology—the piety that grows only through patience, study, and the work of God's Spirit.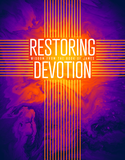 Restoring Devotion
---
The Student Manual
Verse memorization

—Leads students to memorize the first chapter of James over the course of the study

Reading and questions

—Each lesson contains five days of self-directed Bible reading and accompanying questions.

Restoring Devotion

—Application section that encourages students to put lessons into practice

Fill-in-the-blank outline

—Notes from the Teacher's Lesson
The Teacher's Manual
13 Lessons

—Lecture and discussion material on trials, relationships, and wisdom

Lesson Objectives

—Target truths for each lesson

Scripture Memory

—Optional plan to memorize James 1 week by week

Student Manual Pages

—Facsimiles of the Student Manual pages with answers filled in
And as with all our recent studies, teachers can download editable presentation slides.
Here's a video teaser to spark some discussion with your students:
Copyright Information
Restoring Devotion: Wisdom from the Book of James
Written by Jason Ehmann
Copyright ©2018 by Positive Action for Christ, P.O. Box 700, 502 W. Pippen St., Whitakers, NC 27891
Layout and Design: Shannon Brown
Managing Editor: Charles Harris, Ph.D.
Edited by Christa Lord and Kristi Houser
Student Manual Print ISBN: 978-1-59557-320-9
Teacher's Manual Print ISBN: 978-1-59557-321-6
Teacher's Manual Digital ISBN: 978-1-59557-322-3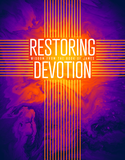 Restoring Devotion