Love and Truth is a brand-new 30-lesson youth curriculum with a concept adapted from our legacy Bible study, Ships. We wrote these lessons to help your students learn how to cultivate godly, healthy, hope-filled relationships. We tackle a wide range of issues, but instead of reacting to hot topics, we've tried to present a positive relational philosophy that reflects God's own grace. As our heavenly Father, He is the source of true love and loving truth.
Through these lectures and exercises, your class will explore the following:
Lordship

– We treasure our bond to God above all others. He is our Creator, our Savior, and our Sustainer—the model for every good relationship.

Kinship

– We honor our parents and cherish our children, pointing every family member to Christ.

Friendship

– We choose our friends wisely, and then build them up through kindness, encouragement, and forgiveness.

Fellowship

– We worship and serve with fellow believers, glorifying God by discipling others for Him.

Citizenship

– We learn, work, and serve to advance the gospel of Christ, choosing to claim or forgo our rights for His sake.

Marriage and Courtship

– We honor our spouse, celebrating gender, intimacy, and sexuality through committed, sacrificial love. While still unmarried, we seek a spouse only in love and truth.
Like many of our other studies, Love and Truth comprises two components:
The Teacher's Manual

, which includes lecture content, weekly quizzes, facsimiles of the student workbook pages, and all answer keys.

The Student Manual

, a workbook which features original artwork, lecture outlines, Bible study exercises, reflection questions, and meditational reading.
You can find pricing and a full feature list on the Love and Truth product page linked below. Lesson activities and objectives are included in the study's scope and sequence.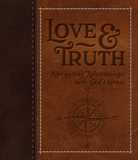 Love and Truth
Copyright info
Love and Truth: Navigating Relationships with God's Grace
Written by Jim and Christa Lord
Concept adapted from Ships: The Relationships of Life, published in 1987, by Frank Hamrick, Bill Coffey, and Steve Braswell
Managing Editor: C.J. Harris, Ph.D.
Illustrations by Justin Gerard
Layout and Design by Shannon Brown
Special thanks to Michelle Harris, Kristi Houser, Jason Ehmann, and Dr. Alan Grover.
Copyright © 2017 Positive Action for Christ. All rights reserved.
As always, we trust these materials will help you magnify the majesty of God to your students. If you have any questions, comments, or concerns, please don't hesitate to contact us—we'd love to hear from you!