The Sermon on the Mount is practical Christianity. With one critical teaching after another, Jesus cuts through centuries of tradition, laws, and culture to reveal a picture of life in God's kingdom. He overturns outward formalism and impossible religious codes, speaking directly to the heart of the gathered crowd. His path is different than anything they have seen or imagined.
Even today, the Sermon feels countercultural. The world system favors the powerful, the proud, and the self-serving. But Jesus blesses the meek—the peacemakers that hunger for His righteousness. If we, by his grace, walk the path shown here, we become salt and light in a world of decay and darkness. Jesus calls us to hear his words, do good, and reflect the Father's glory.
Who is this study for?
Use this 13-lesson verse-by-verse study of Matthew 5–7 with your teen or adult Sunday school class or small group Bible study.
How does it work?
The Teacher's Manual includes lecture content and exposition for Matthew 5–7, as well as discussion questions plus facsimiles of student reading exercises with answers filled in.
The Student Manual provides learners with fill-in-the-blank outlines for all 13 lessons in the Teacher's Manual, along with reading exercises and preview questions for Lessons 2–13.
To enhance the classroom experience, free lesson presentations are available. You can use the pre-formatted slide layouts and text or adapt the presentations with your own pictures and lesson content. These are available as PowerPoint, Keynote, or PDF slides.
To purchase or to download the presentation slides and free samples, see the product page available via the link below.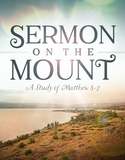 Sermon on the Mount